Lakedell School TEAM: Together Everyone Achieves More!
The Grade 5/6 class will be having their DARE grad on December 4th from 9 to 10 in the morning.  Parents are encouraged to attend to help celebrate their children's hard work learning about good choices!
PLRS has invited our older students to a Round Dance on December 11th, the Grede 5/6 class will be making some items for the giveaway.
Our next school assembly will be first period on Thursday November 28th at 3pm, this is an opportunity for us to recognize the hard work that our students have done over the last month of school, all are welcome to attend!
Our Christmas Concert preparations have begun already, the students will be getting ready for the afternoon concert (1pm) and evening concert (6:30pm) on December 17th.  All are welcome to both concerts, however, the evening concert does tend to fill up, so you may want to consider attending the afternoon concert if you are able to.
We will have our annual Talent Show on the last day of school before break, December 20th at 2 pm, families are encouraged to atend!!
BIG THANKS TO TELUS!!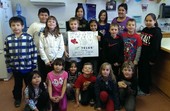 A huge thank-you goes out to Telus, for their generous donation of $5000 to our Breakfast Program!!  We are very thankful for their partnership and support!!
Follow us on Facebook and Twitter!!
You can "Like" us on the Lakedell School Facebook Page.
Lakedell School now has a twitter account: @LakedellSchool
Recent School News