Christmas Concert
Thank you to everyone who attended our Christmas Concert!  The students put on a great show, with great acting, dancing, poetry and singing.  The night ended with a beautiful version of 'O Holy Night' in both English and Cree.  A big thank-you to all of the parents and community members who supported our raffle draw and silent auction for the Lakedell Parent Fundraising Committee; we raised over $3000 to support our students, WOW!!
-Mr. Van Someren
'Principal for a Day' Kaiden Brown and 'Vice Principal for a Day' Mya Zarantonello: December 1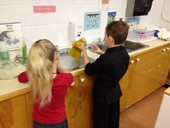 Kaiden and Mya enjoyed spending December 1 as the "Principal and Vice-Principal for a Day".  They got a behind the scenes tour, made announcements, ate lunch in the staff room, supervised at recess, observed the classrooms, problem-solved staff challenges and extended a recess.
Congratulations Kaiden and Mya, and thanks to all of the other students who donated and collected pledges for Terry Fox; we raised over $1700.
Breakfast Program welcoming donations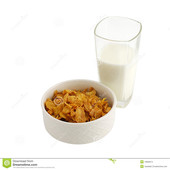 We continue to seek support from our community to help keep our breakfast program viable.  The following letter was sent home on September 4, 2014.
Breakfast and Milk Donations 2014-2015
Lakedell School is very grateful for the continued support that it receives from numerous community groups and organizations!!
BIG THANKS TO TELUS!!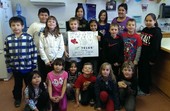 A huge thank-you goes out to Telus, for their generous donation of $5000 to our Breakfast Program!!  We are very thankful for their partnership and support!!
2014-2015 Calendar and Supply Lists
Supply List for 2014-2015 (all grades)
Lakedell School Calendar 2014-2015
Lakedell Kindergarten Calendar for 2014-2015
Follow us on Facebook and Twitter!!
You can "Like" us on the Lakedell School Facebook Page.
Lakedell School now has a twitter account: @LakedellSchool