Summary of Public Consultations
The Final report outlining a summary from the public consultation held to discuss the possible closure of the Lakedell and Pipestone Schools is now available. We have included a list of general questions that have been posed to Wetaskiwin Regional Public Schools from parents and community members through correspondence or at the public meetings held to discuss the possible closure of the Lakedell and Pipestone Schools. The consultations were held on February 12th at Lakedell, on February 19th at Pipestone School and on February 27th at the Falun School.
The Board requested input on parent's thoughts, concerns and questions with their vision of consolidating the three schools to Falun and how this change would affect their children.
Many of the same thoughts, concerns and questions were expressed at all three meetings; therefore these questions were not repeated more than once in this summary document. Also, due to the similar nature of some questions certain explanations may answer multiple questions.
A compilation of the comments and questions that were gathered at all three meetings have been grouped into the categories outlined in the table of contents.

View: Summary of Public Consultations
Kindergarten Registration 2014
The Kindergarten application packages are now available.
If you have a child who is eligible to attend kindergarten this fall (5 years old on or before December 31, 2014) now is the time to pick up a "getting ready for kindergarten" package.

Packages are available at the school or from Division Office 5515-47A Avenue in Wetaskiwin.
Complete the forms enclosed in the package and return them to the Lakedell School on the Kindergarten registration night April 3, 2013 4:00 p.m. - 6:00 p.m. 
Specific details regarding programing are included in the information package and are on the WRPS division website.

For further information please contact the school directly or visit the website: www.wrps.ab.ca
BIG THANKS TO TELUS!!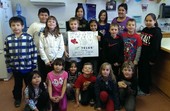 A huge thank-you goes out to Telus, for their generous donation of $5000 to our Breakfast Program!!  We are very thankful for their partnership and support!!
Lakedell School TEAM: Together Everyone Achieves More!
Follow us on Facebook and Twitter!!
You can "Like" us on the Lakedell School Facebook Page.
Lakedell School now has a twitter account: @LakedellSchool