Kindergarten Registration 2014
The Kindergarten application packages are now available.
If you have a child who is eligible to attend kindergarten this fall (5 years old on or before December 31, 2014) now is the time to pick up a "getting ready for kindergarten" package.

Packages are available at the school or from Division Office 5515-47A Avenue in Wetaskiwin.
Complete the forms enclosed in the package and return them to the Lakedell School on the Kindergarten registration night April 3, 2013 4:00 p.m. - 6:00 p.m. 
Specific details regarding programing are included in the information package and are on the WRPS division website.

For further information please contact the school directly or visit the website: www.wrps.ab.ca
Lakedell School TEAM: Together Everyone Achieves More!
March will be a busy month again at Lakedell School.  We will have report cards issued on the 14th, followed by student led sonferences on the 18th and 19th in the evening. Their will be a lieu day on March 21st with no school for staff and students, followed by a PD day for teachers on the 24th.  We will have a Parent Council meeting on March 12th at 4 pm, there will also be a visit by Cst. Malik to the Grade 5/6 class to talk about cyberbullying on the 14th. 
BIG THANKS TO TELUS!!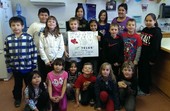 A huge thank-you goes out to Telus, for their generous donation of $5000 to our Breakfast Program!!  We are very thankful for their partnership and support!!
Follow us on Facebook and Twitter!!
You can "Like" us on the Lakedell School Facebook Page.
Lakedell School now has a twitter account: @LakedellSchool